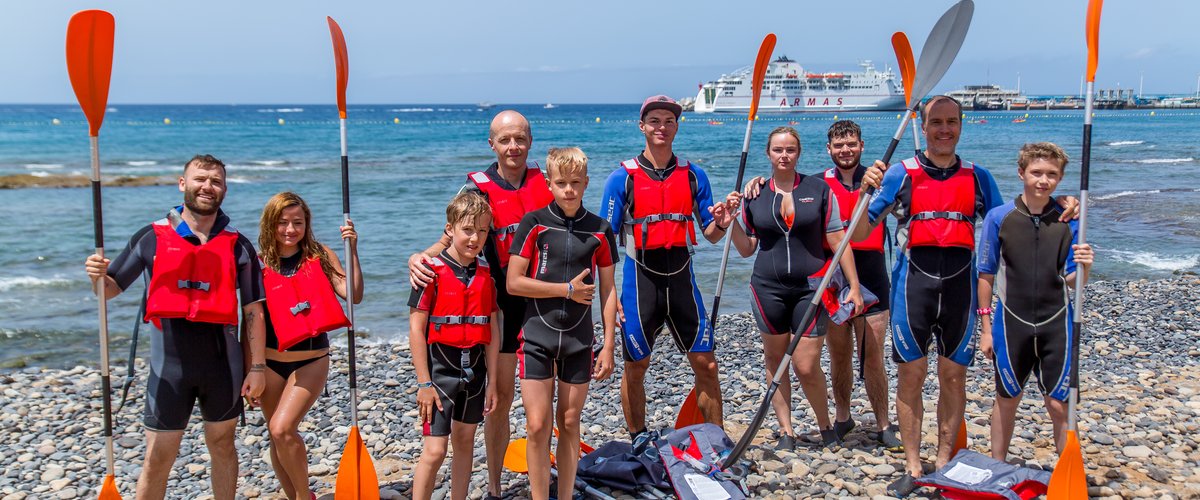 Are you planning a vacation?  Would you like to spend it in a beautiful and picturesque place?  Are you an experienced canoeist or completely opposite and you are looking where you could start your canoeing adventure?  If so, the Canary Islands are the perfect place for you and your family. For kayaks, it's best to choose Tenerife or Fuerteventura, two completely different islands, both with great climate and full of breathtaking views.
Tenerife is a volcanic island in an oceanic subtropical climate.  The capital of the island is Santa Cruz, magnificent mountain landscapes, the snowy peak of the Teide volcano in the winter are just a few symbols that define this wonderful island.
 In Tenerife we start our canoeing adventure in Los Cristianos in a town located in the south of the island.  By kayak we reach the PalmMar cliffs enjoying the impressive views along the way. Often you can see dolphins and turtles coming here, which is quite an attraction not only for children but also for adults.
 Fuerteventura is the island closest to the African coastline, it belongs to Macaronesia as the rest of the archipielago.  Almost the entire surface of the island has a specific volcanic character, impressive volcanic hills make it feel like we were on a completely different planet.  Fuerteventura has the longest coastline and many beaches with beautiful turquoise water.
 We start the canoe trip in La Lajita, a charming town located in the south of the island.  This unique place surrounded by the scenery of fabulous cliffs will guarantee unforgettable memories and will transport us into a world that has nothing to do with everyday busy life because in La Lajita the time runs at its own pace.  With a little luck during the trip, our eyes will enjoy the little flying fish jumping out of the water.
 Both in Tenerife and Fuerteventura, our trips are led by experienced instructors and run in a relaxed atmosphere.
 Enjoy great views, unforgettable adventures - kayaks are a great idea for an active time!
Read more about: