Underwater adventures for beginners

Scuba Diving Tenerife.
Diving Tenerife. Start your underwater adventures and go diving in Los Cristianos on a volcanic reef. Anybody above the age of 8 can dive. There is probably no person in the world who wouldn't think at least once how wonderful it would be to see the beauty of the marine life with their own eyes. It's a dream of many people. Don't wait, choose a beginners program and your dream will come true.
Are you worried that you cannot do it? You will see that it's not so difficult. In our diving centre you will find the best conditions to start your new life as a diver. We always conduct our try dives with a personal instructor so that you feel comfortable and confident underwater and can enjoy your first experience as a diver. We enter the water from the beach so that you have plenty of time to get used to the new equipment and new way to breath. We practice the breathing with the regulator first swimming on the surface and you can take your time to adapt to it as we are never in a rush. That is a huge advantage of having a personal instructor. We then start descending, first to 1 meter and then deeper and deeper till we reach the bottom 6-8 m deep. And here you find yourself surrounded by fish, sea animals, sea stars.
Try dive 20 min underwater – 75 euros                           Book online with 10% discount
Try dive 40 min underwater – 95 euros                            Book online with 10% discount
Those who prefer staying on the surface are invited to go snorkeling, during which you will also see marine animals and fish.
Snorkeling 50 min – 39 euros                                          
If you are planning your vacations in Tenerife you can book your try dive now with a discount and upon arrival to Tenerife choose the day to go diving.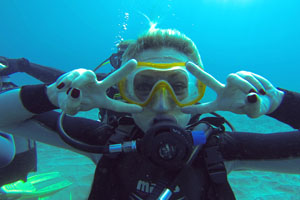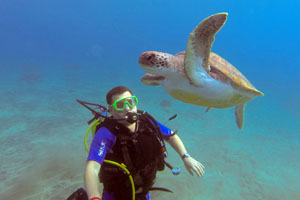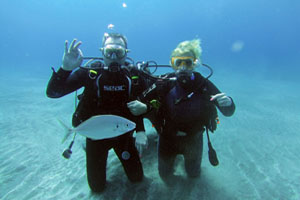 We pick up guests from the hotels or apartments at 9-10 a.m. and bring them to the dive school. Then we give a detailed instruction, explain basic rules of scuba diving and teach main underwater swimming skills. Each diver puts on a warm suit and the whole kit of equipment. Then we enter the water one by one in front of our dive center, each diver with their own personal instructor, and you start your adventure that you will remember forever. Now you are a diver! For those who would like to have underwater pictures we bring a professional camera to shoot videos and pictures. Then we return to the hotels at around 3 p.m.
Those who prefer snorkeling are provided by masks, snorkels, fins, suits and a swimming board. We go snorkeling in small groups accompanied by an instructor.
We pick up guests from the south of Tenerife