The Stingray Bay is home to many species of underwater animals. A large part of the bottom is covered by a volcanic reef. It is a favourite place for all kinds of underwater animals and fish. During the dive, we can watch about 15 species of fish, rays, turtles, crabs, moray eels, octopus, cuttlefish, shrimps and many more. We encounter stingrays here every day, although we do not guarantee that for every dive. Ray species that live in our bay are Sting Rays, Bull Rays, Butterfly Rays.
Those who prefer staying on the surface are invited to go snorkeling, during which you will also see marine animals and fish. Snorkeling 50 min – 35.10 euros
How is the diving program going?
The minimum age is 8 years. We start with 30 minutes of training in a language understood by the participant. We use a specially prepared video or oral instruction. We prepare diving equipment and enter the water. Try divers are under the supervision of an instructor, in a maximum of two to one ratio. This gives great comfort and safety. This distinguishes our school from others, where one instructor can take care of up to 8 people! Our Diving Center is located just in front of the water entrance in the Stingray Bay that makes it very comfortable to dive here. You can leave personal belongings in the dive center, change clothes or use the toilet. At the participant's request, we can take photos / videos during the diving program for an additional fee of 25 euros. The length of stay underwater depends on the option purchased.
The difference between a Try dive and a Padi or SSI DSD Program
Both are dives for beginners and require no previous experience. While a try dive is a simple guided dive, the DSD program (Discover Scuba Diving) includes e-learning (theory online that you receive upon making the booking) and training during which the diver acquires basic diving skills. It counts as the first lesson of the PADI or SSI OWD diving course (PADI OPEN WATER DIVER). Upon completing the DSD program the diver also receives a diploma.
More about the DSD Program in Tenerife
DSD is an introductory program to scuba diving. After a detailed briefing about dive equipment and basic theory,  you will enjoy a dive under direct guidance of a PADI or SSI Dive Professional to a maximum of 6 metres. Upon accomplishing few easy skills during your dive on a lava reef with great views and rich marine life, you get a temporary certification that allows the student to go up to 12 metres for the next dives with a Instructor or DSD Leader. So you can book a second dive for the same day to make it a longer adventure into the blue.
Book the PADI or SSI Discovery Scuba Diving Program online and get the e-learning with the introduction to diving theory. Start learning right now!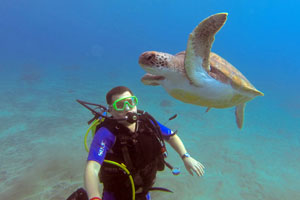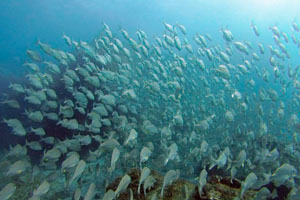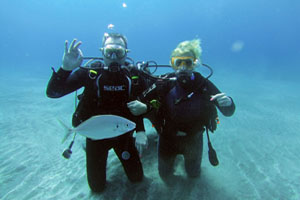 Additional information:
Start time and duration
The time that appears in the booking automatically can be changed depending on the number of reservations and weather on that day. Wait for a confirmation email and keep your contact phone on.
Duration of the dive depends on the program that you choose, but training and preparation for the dive always takes long time, we are never in a hurry when going scuba diving. All together preparation and dive itself last around 2,5 - 3 hours.
If you use our transport, add extra time. It is a group transport, so sometimes you have to wait for your diving program or wait for the transport after diving.
What to take with you?
Take with you towel, bathing suit and drinks. You can leave your personal belongings in the dive center.
Transport
You can book a free transfer from your hotel to our dive center. However, please note that this is a group transfer and it comes with certain conditions. Free pickup is only in the South of Tenerife, see the map below. Don't be late for your pickup time! The driver probably has more clients to pick up in other places. Sometimes you have to wait for your dive program or drop off. We always try to make everything happen quickly and without wasting the time of our clients.
Your own transport
If you do not need our transport, you can reach the diving center by car or if you live nearby, you can come on foot. Sometimes it can save you some time. If you have a rental car, there is no problem with parking next to our building. On busier days you will find a parking space no more than 200 meters away.
Safety and health
The statistics ensure that diving for beginners is very safe. You can compare it to cycling. For this reason, it is also available for children. Each participant in the training program is insured.
Diving does not require any special health conditions. However, there are diseases that require medical approval. If you suffer from asthma, epilepsy, chronic heart disease, take medication that prevents driving, cannot play sports, or are disabled, obtain a document from your doctor. Pregnant women are not recommended to dive.
Booking rules and PROMOTION. Refund.
You can only take advantage of the price promotion if you book online. If you book less than 18 hours before the adventure, please call us to agree the meeting point and time. Check emails from us and keep the contact phone on. Let us know in the booking comment if you come with your own car. You can get a refund if you cancel more than 24 hours before the tour. Remember we block place and assign instructor for each booking and therefore it cannot be cancelled less than 24 hours before.
COVID! Antivirus security
Our diving center uses all recommended anti-virus procedures.  Rules of preservation and disinfection of equipment. Remember to follow the rules. Disinfect shoes and hands. Wear a mask and keep your distance from others if possible.
We pick up guests from the south of Tenerife