Watch the underwater world from the surface
Snorkeling is very popular in the world. Tourists coming to warm countries enjoy swimming with masks and snorkels and watching the underwater world full of life. We invite you to go snorkeling in Rays Bay, one of the best sites of Tenerife where you will enjoy the underwater landscapes, see a lot of fish, plants and animals. Here we encounter huge ocean rays frequently. Snorkeling is easy and a lot of fun, anyone can go snorkeling no matter their age or swimming ability.
Join us on one of our snorkeling trip to see the inhabitants of the Atlantic ocean! We start snorkeling tours at 09:30, 12:30 and 15:00 every day. We give a full briefing to our snorkelers, put on warm suits, take masks, fins and snorkels and enter the water from the beach. We also take a swimming float so that snorkelers can have a rest from time to time, the trip is 50 min long and always lead by an instructor.
Price: 39 euros
Special offer! Booking online you get a special price of 29 euros per person!!
NEW!
Snorkeling with turtles (by boat)
For snorkeling fans we also have a special boat trip to the Palm Mar: come with us to swim in the Atlantic Ocean! We pick up the participants at 10:00 a.m. and return around 1:00 p.m. We will prepare ourselves in our diving center where the instructor will explain how the excursion is and will deliver the equipment to the boat (wetsuit, mask, snorkel and fins). We leave from the port of Los Cristianos to the Palm-mar where we will swim for 50 minutes near the fish farms in search of turtles and different marine animals. On the way to our snorkeling spot you will have the opportunity to see dolphins and enjoy the view of Los Cristianos from the boat.
You can choose snorkeling from the boat for only 12 euros extra.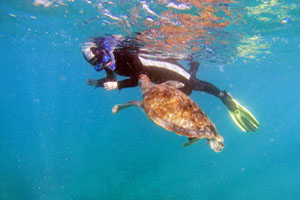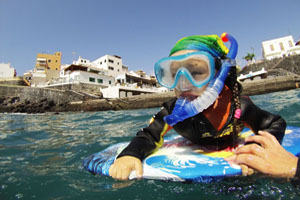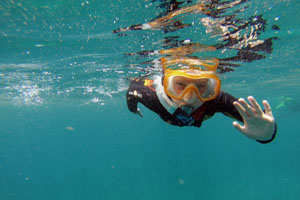 We pick up our guests from the southern coast of Tenerife, see the map.