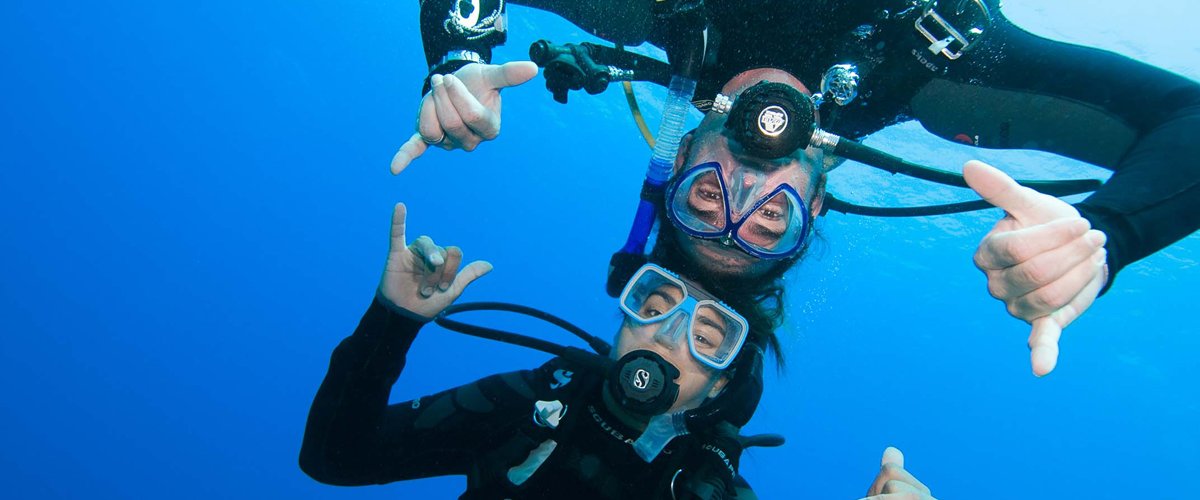 1) Computer
It's the most important piece of equipment for a beginner as it's the computer that suggests the diver how long he/she can stay at this very depth, indicates when the safety stop begins and counts down the minutes. A computer is an obligatory part of gear, but taking rented equipment in dive centers you are normally not provided with a computer. That's why start buying your scuba diving gear with a computer.
2) Mask and snorkel
There is a big variety of masks for scuba diving. It's recommended for divers to have his/her own mask as rented masks often don't fit the face perfectly. As a result, the water comes inside the mask and the diver gets distracted clearing it all the time. That's why it's better to go to a diving shop, choose a mask that would perfectly fit your face and enjoy your scuba diving trips.
3) Wetsuit
When you rent equipment it's quite difficult to find a suit that would fit closely your body as far as it has been used by divers of different constitution. For this reason you lose the warmth underwater faster than in your own suit that has the shape of your body.
How to choose a wetsuit? First, you need to know where you are planning to dive, in warm tropical water or in cold lakes. The thickness of your suit will depend on that. For southern countries where the water is 26-28 degrees a short suit would be good for you. For the water of 20-24 degrees choose a suit 5-7 mm thick with a long sleeve. And for cold waters below 18 degrees you need a dry suit (to use it you have to do a specialty course Dry Suit Diver).
4) Neoprene boots
Not to use rented boots divers normally buy them straight after their first scuba diving course. How to choose boots correctly? If you dive mostly by boat you can take boots with fine soles. You will feel comfortable and light in such boots. But if you dive from the shore, especially where there are stones, you'd better choose boots with thick and firm soles. Thus, you can easily enter the water from rocky beaches.
5) Fins
And of course each diver buys fins. To choose fins is easy, they are normally of sizes S, M and L, they could be firm or soft, long or short. To start you´d better choose fins of medium firmness and length. If a beginner has his/her fins and knows how to put on and take them off fast (there is a big variety of adjustments) it makes going to the water and out easier and less stressful and the diver feels much calmer and self-confident.
To choose your scuba diving gear properly consult with your instructor. You will see that using your own equipment it's easier to dive and you will enjoy your diving trips even more.