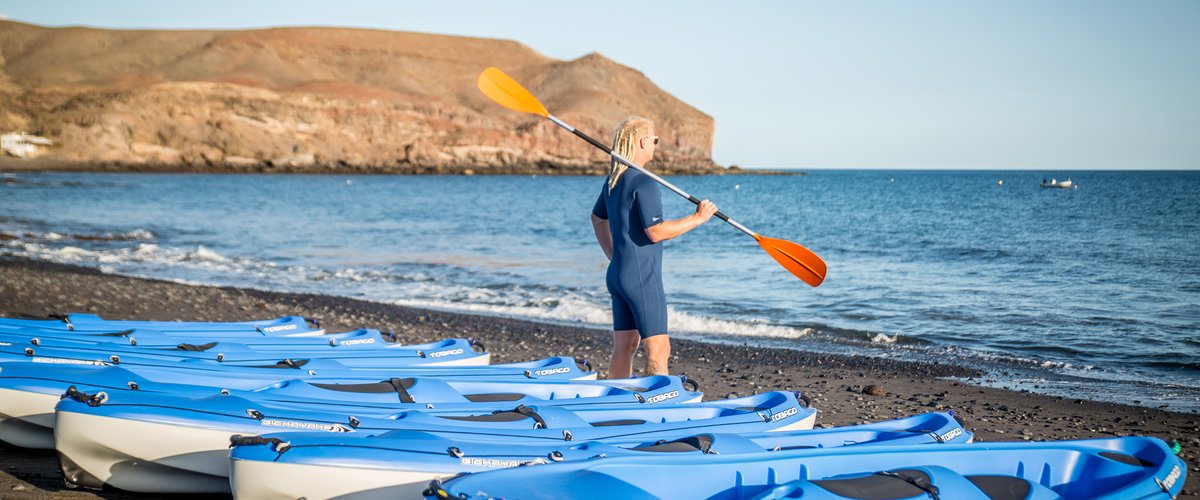 Fuerteventura, one of the volcanic islands belonging to the Canary Islands archipelago, is located in the Atlantic Ocean, near the coast of Africa.  The island's climate is very dry, volcanic and rocky. Every year more and more people get "addicted" to kayaking that is a very fascinating kind of sport available for literally anyone. Travelers discover new destinations to practice kayaking and Fuerteventura is one of them.
The best starting point for the kayaking tours is located in the small fishing village La Lajita, to the north of Costa Calma, a big touristic area.  The beach at La Lajita is divided into two bays, which are covered with shiny stones.  However, you can also find black sandy beach areas.
La Lajita is a quiet and peaceful place.  Mostly inhabited by local people.  Quiet,  not crowded beaches give this place a unique character and charm.  You can spend a romantic day together or relax in peace with your families.
If you think about spending the day in La Lajita, why not combine activities with pleasure and spend the day with some physical activity?
Canoeing has been dynamically developing and in recent years  and is a very fashionable way of spending time.  It combines two very important aspects: sport and relaxation.  You don't have to pour seventh sweat out of yourself.  A kayak tour is to be pure pleasure for you.  There is one more important argument why kayaks ... It's being close to water.  The trip is not only "paddling " with a paddle but also fun in the water, an opportunity to swim, learn about underwater secrets (snorkeling).  Bathing and relaxing by the water in a picturesque environment away from the tourist noise – here you will calm down and recharge your batteries with positive energy.
Are kayaks really for me?  Can I handle it?  If you have any of these questions, the answer is simple – yes!  Canoes are a fantastic way to spend free time for people of all ages over six years, regardless of your physical condition.  It's not a preparation for some competition, the adventure is to give you a lot of positive energy, provide movement so important for our body and at the same time relax.
Calm ocean, picturesque views, cliffs and beaches glistening in the sun, flying fish jumping out of the water.  Great fun for both small and large, great time for couples, as well as for families or for people spending their holidays alone.
Find more details about kayak tours in Fuerteventura with the school Kayaking Atlantis: https://kayaking-fuerteventura.com/